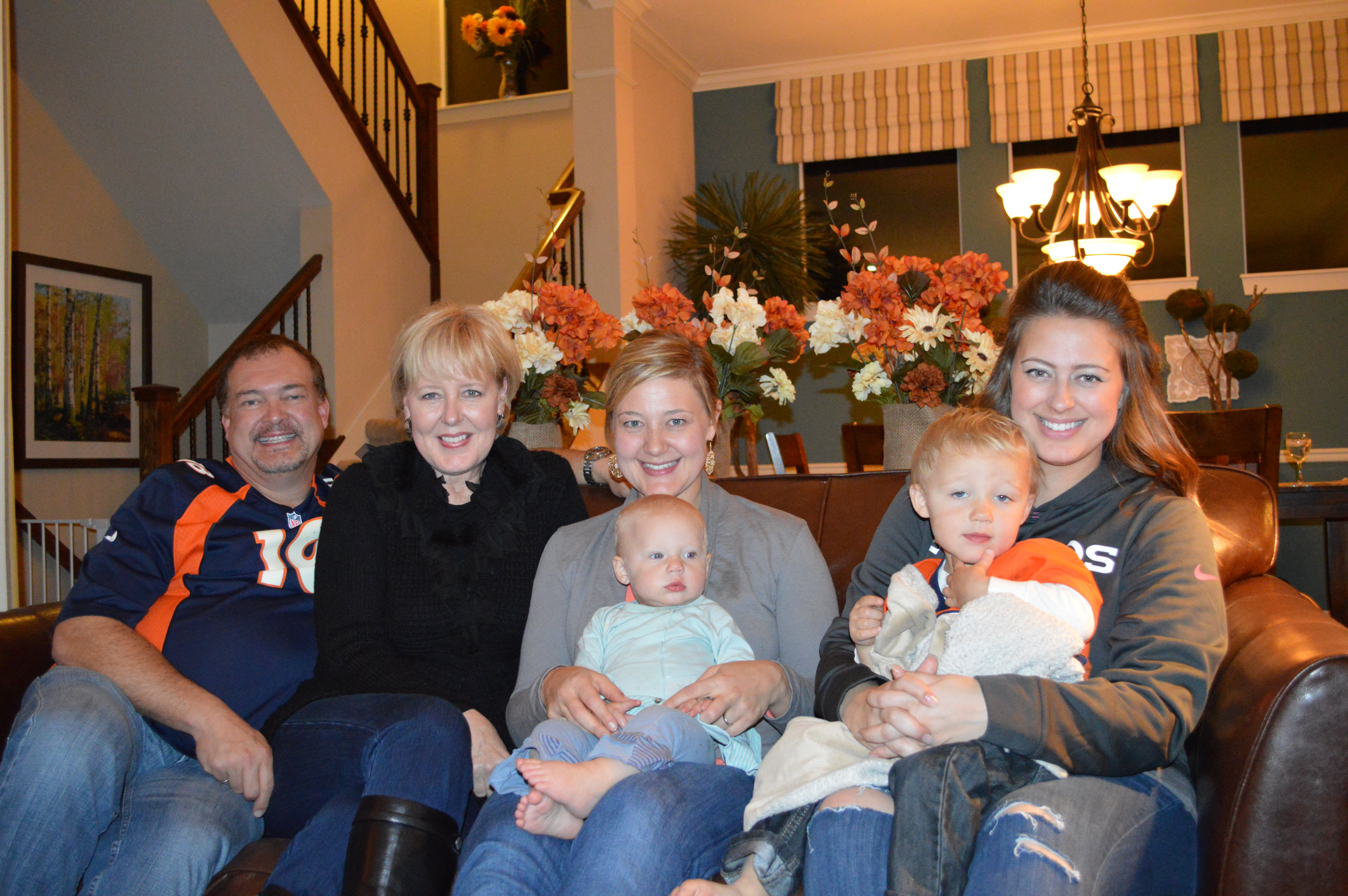 (Left to right) Rick Leuthold, Cindy Leuthold, Katie Rustici holding Ella Rustici, Logan Rustici, Lindsay Leuthold
The Leutholds found something special in Central Park.
It's not the amenities. Not the location. Not even the community events.
It's the family connection.
Three generations of Leutholds now live in Central Park West neighborhood.
"I call it the Leuthold compound," Lindsay Leuthold said while smiling.
It all started when Dr. Katie Rustici and her husband, Dr. Matt Rustici, discovered the community in 2008.
"It just made sense. Matt and I were commuting to the Anschutz Medical Campus, and this was the perfect spot," Katie said.
Her parents, Rick and Cindy Leuthold, then moved near Central Park in 2011, while the Rustici family and Katie's sister, Lindsay, soon moved a few blocks away.
Now they walk to each other's homes to be together – sharing dinner, holidays and football games.
"I don't know if my parents knew we were going to move this close," Katie joked.
But Rick and Cindy just smile. "We were living in Montana, and we just weren't getting enough time with the grandbabies," Cindy said.
"Cindy retired from her 20-year career in banking. I worked things out with my company, and we moved to Denver," Rick said.
Now Cindy's one of Central Park's most active residents.
"I'm part of a Grandmas group that meets every week. There are about 90 of us now," she said. "From that, there have been all these spin-off groups such as a book club and Grans On The Go, which plans area field trips.
"It's a great mix of people of all professions and backgrounds, and a lot of them have moved to the community to be closer to the grandkids."
Katie has also found neighborhood groups.
"There's a Facebook group called 2011 Babies Playgroup, and they all have kids the same age as my son," she said. "We have outings, make meals together and hang out.
"There's also a Central Park West group, where we've met some of our best friends."
The Leutholds love this part of of the community.
"It's so close to shopping, the town center, Central Park, the Rec Center and the future commuter rail," Rick said. "I love that I can just park my truck on the weekends and walk everywhere."
"And the neighborhood's so active. We always see friends in the alleys or elsewhere … we even had 500 trick-or-treaters last Halloween. Come on – that's amazing," Cindy said.
Lindsay was drawn to the same vibe. "I'm always doing stuff in the community and inviting my friends to events or restaurants here."
Katie and Matt are even planning to raise chickens in the neighborhood. "We're using every inch of our backyard – we also have gardens and Matt planted fruit trees."
It all just feels like home, Cindy said.
"I love that fact that everyone's so friendly – it's like we've lived here for a lot longer, she said.