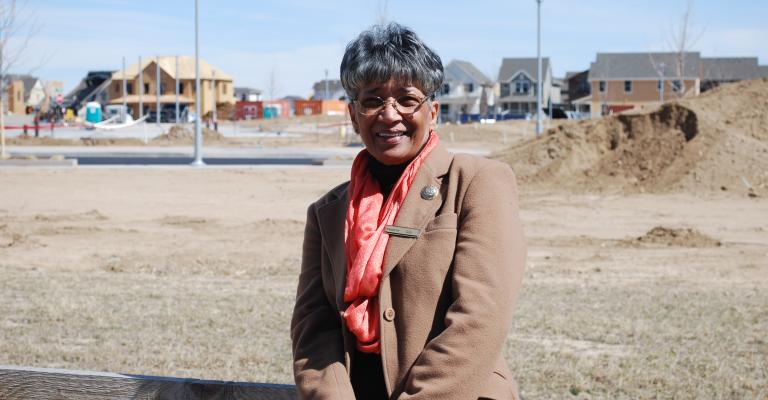 By Virginia "Gin" Butler, Visitor Center Ambassador
When I first started as an ambassador at the Visitor Center, I felt like I was working on the new frontier.
Last year on March 14, 2013 the Brookfield Properties (formerly Forest City) marketing team conducted the first Marketing training session for the new Visitor Center staff. The training was located at 4928 Uinta Street in the newest neighborhood, Conservatory Green.
Finding the location was not an easy assignment. I laughed to myself and said, "This is a test… if you find the place then you get to stay."  You see at the time, the location was not on any GPS or navigation system I had access to. As I drove along Northfield Blvd, I noticed the multi-colored building I was looking for (across from Macy's at The Shops at Northfield) and was on time for my training session!
Upon arrival the first thing I noticed was there was nothing here except the building where I would be working! Oh there were a couple foundations poured, but that was it. So I said to myself, (Do you notice how many conversations I have with myself?) "Self, as I understand our mission it will be to sell the neighborhood. Now how am I going to do that if we have no houses?"
Well here a year later with over 100 families living in our newest neighborhood, what a difference a year has made! What was expected to take 2-3 years to develop is close to completion.
As I continue to do my "ambassador adventures," I see many things that I did not see last year in this neighborhood. I see children playing on the green links, families walking with strollers and young ones examining the building of the new elementary school. The lights being strung within the Conservatory Green Plaza, the drainage being installed in our signature park Prairie Basin, and the diversity of the residents walking/driving in the neighborhood. The 55+ individuals are pleased their homes are/will be located next to families.
The profile/diversity of our visitors is changing from metro residents to prospective buyers relocating from all over the country. Most of them have researched residential developments and found Central Park to be one of the leaders in all of the amenities they are looking for i.e.: parks, open space, schools, "connectivity" (That was a new word for me, but after some discussion, I like it!), shopping, access to DIA, I could go on, but you get the picture.
As I said in my last blog, we've come a long way but there's still considerable work to be done. However, the encouraging part is we have all of the residents to aid us in getting there!