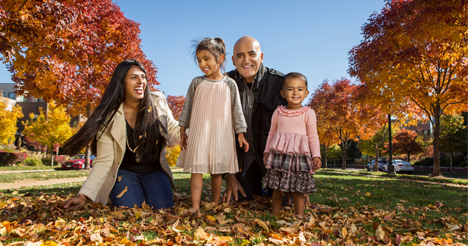 Inevitably each year, several major storms hit Colorado, closing the roads, shutting down the airport and making it nearly impossible for people to traverse the state. On those days, most people do their best to avoid travel. But for resident, Shailen P. Bhatt, this is when the real work begins. As the Executive Director for the Colorado Department of Transportation (CDOT) he is the first person contacted when something goes wrong on the statewide transportation system and he takes this responsibility very seriously. CDOT maintains 3,500 bridges, 23,0000 miles of highway, 35 mountain passes and several hundred pieces of snow fighting equipment. In addition, Bhatt oversees 3,300 employees statewide and an annual budget of approximately $1.4 billion. Despite this herculean responsibility, if a problem occurs,  he doesn't hesitate to jump in a snow plow, head to the airport during a blizzard, or help redirect traffic after a highway closure.
"People often think of CDOT as a monolithic entity, but in actuality it exists to save lives and is composed of thousands of people that truly care about making people's lives better, " said Bhatt. "We are committed to making Colorado's transportation system the best in the country and continuing to push this state forward."
Bhatt took on the leadership role for CDOT in 2015 while serving as the cabinet secretary for the Delaware Department of Transportation. He became aware of Central Park well before that in 2005 when he traveled to Denver for a Metro Planning Meeting.
"I recall people talking about a new, award-winning urban infill development and was intrigued by the innovative concept of a former airport becoming a master-planned community," said Bhatt. "Fast forward 10 years and I was offered the job at CDOT in Denver and immediately thought of Central Park."
With his career on the rise, he moved his 2-year old daughter and then-pregnant wife across the country in search of a family friendly community that also aligned with their passion for  saving the environment….soon after they ended up in the community.
"After looking at many areas around Denver, we were attracted to Central Park's emphasis on sustainability, walkability and commitment to transit-oriented development," said Bhatt. "Moreover, my most important priority in the world is being a good father and husband, and believe this community helps foster connectedness and a happy childhood for my girls."
Since coming aboard in 2015, Bhatt and his team at CDOT have launched an innovative program that he describes as his proudest accomplishment. The RoadX program, which is focused on deploying innovative technology solutions—such as connected vehicles and teaming with the private sector– is shaping Colorado's  transportation future. He was also critical in Colorado gaining national acclaim when it was named a finalist for the Hyperloop One .
While his work schedule is rigorous and often unexpected, he makes sure to spend ample time with his family. When there isn't a weather or traffic problem to solve, he enjoys taking his two and four-year old daughters to  Stanley Marketplace for ice cream at Sweet Cow. They also spend a lot of time in Central Park, which is just across the street from their home in the Westerly Creek neighborhood.
"When I realized that I wasn't ever going to be a professional hockey player, I decided I wanted to save the world by helping the environment," said Bhatt. "I have been able to do that through my work in transportation..  I do that as father, husband and citizen of Colorado."
*Just weeks after this interview was completed Shailen announced he was taking a new position in Washington DC and will be relocating there with his family. He will become president and CEO of the Intelligent Transportation Society of America, a Washington D.C.-based organization focused on developing and deploying intelligent transportation systems across the U.S. Click here to read the Denver Business Journal article on the announcement. 
The Central Park community is among Denver's most dynamic and vibrant—filled with passionate people who believe in strong community involvement and improving the world around them. Central Park is home to an eclectic mix of growing families, young professionals, empty nesters and numerous stand-out community leaders who are making positive change throughout Denver, the region and the world.