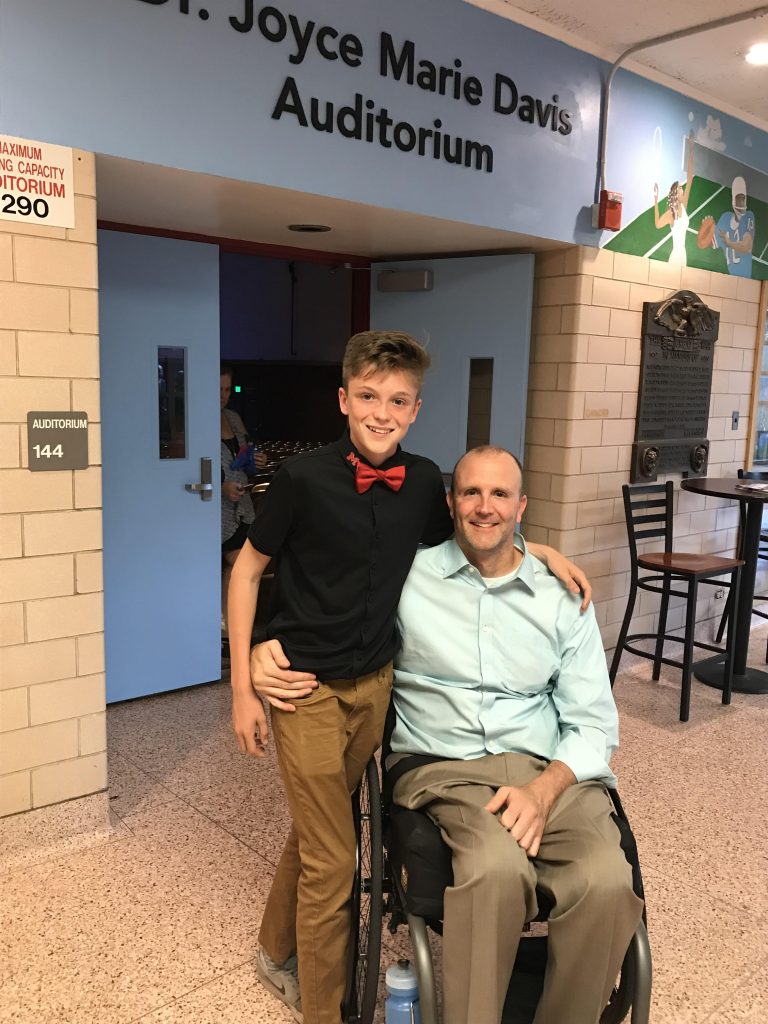 Long time Central Park resident and single dad, Bryan Gates has spent the last decade raising his son Blair… watching him play soccer at Central Park, hanging out at Stanley Marketplace and taking him on summer trips.  He never expected to one day be in a wheelchair and lose the ability to climb the stairs of his home. He also never expected he would need to ask for help from friends, neighbors and the community to remain in this home. But as is often the case, it's the unexpected crisis that puts life into perspective and brings out the resilience and best in people.
Last summer, Bryan was diagnosed with an abdominal aneurysm and was told he would need surgery. While it was indeed a major procedure, he was expected to make a full recovery. After undergoing the surgery, the doctors believed it was a success and that he was on the path to a full recovery. He looked forward to returning to normal daily activities. But after a day, things took a turn and he began to lose movement and feeling in his legs, abdomen and chest. It turned out he was in the tiny percentage of cases that resulted in a spinal cord stroke– rendering him paralyzed from the waist down.  Bryan went to Craig Rehabilitation Hospital for three months for physical therapy, but has not regained use of his legs, and has begun assimilating to life as a paraplegic over the last few months. His current home in the Eastbridge neighborhood is not conducive to life in a wheelchair so he has temporarily moved in with his parents, but is eager to get back to his normal life with his son.
"This was obviously quite unexpected and one of the biggest challenges of my life, but I've been doing my best to make the most of the situation and remain positive," said Bryan. "Getting back into my home has been my biggest challenge due to the expense of remodeling along with all the other medical expenses in getting injured."
The Home Builders Foundation (HBF), a non-profit organization that modifies homes for people with physical disabilities at no-cost, has already completed a ramp and will begin working on a bathroom remodel shortly. One of the larger ticket items required for him to remain in his home is a stair lift which runs about $20K, but will allow him access to his bedroom and bathroom. He has not set foot in his bedroom since getting injured and has relied on friends and family to get him the items he needs.
"I am not one to ask for help, but getting injured in this manner has been a much bigger expense than I had ever anticipated," said Bryan. "The cost of medical bills, medical equipment, transportation, and remodeling my house has been overwhelming. The community has already been tremendously generous with their time and resources and if they can find it in their hearts to help me in raising money for this stair lift, Blair and I would greatly appreciate it."
The MCA, Infinity Homes and Forest City (now Brookfield Properties) have all committed time and resources to helping the Gates family remain in their home and they are now opening it up to the larger community. Every dollar raised by the community will be matched by the MCA.
To learn more about the HBF, visit www.hbfdenver.org.
About the Home Builders Foundation
The Home Builders Foundation (HBF) is the charity of choice for the Home Builders Association of Metro Denver and a metro-Denver nonprofit that partners with the homebuilding industry to provide home modifications at no cost for individuals with physical disabilities. Since 1993, the organization has helped more than 1,400 individuals with disabilities remain in their homes by building independence and elevating lives. For more information, visit www.hbfdenver.org.