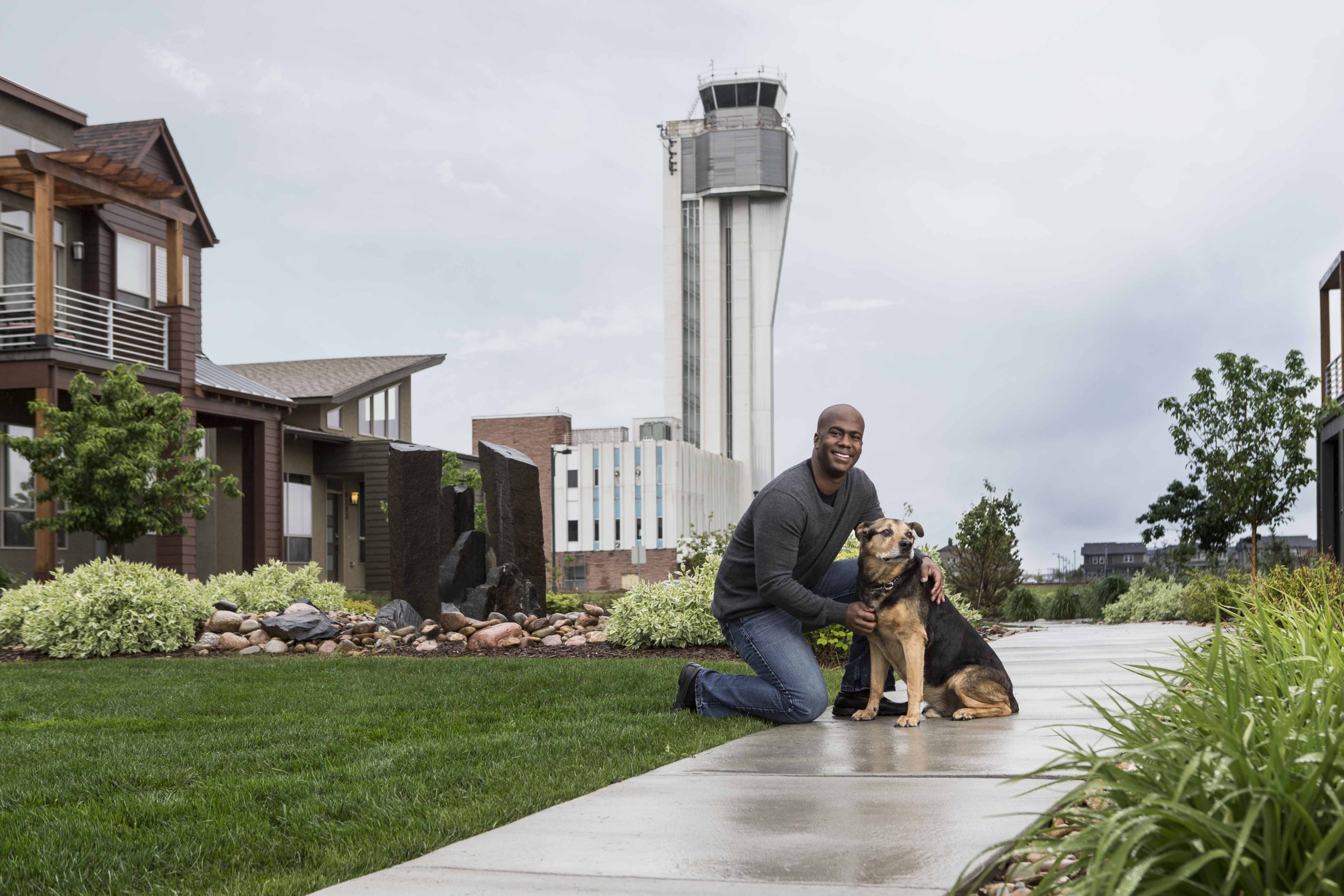 Councilman Chris Herndon has been a resident since 2009, and was elected to represent District 11 on the Denver City Council in May of 2011 after being honorably discharged as Captain from the U.S. Army.  He currently serves as the City Council President, and his district includes Park Hill, Central Park, East Colfax, and a portion of Montbello (as of the July 20th redistricting).
Councilman Herndon's decision to move to Central Park started like most: he was in search of a new house with close proximity to downtown that offered modern amenities. But upon moving, he soon realized there was so much more to the community than he thought–and ended up finding not only a home, but also lifelong friends, and his true calling to public service.
"Central Park has been everything I thought it would be and more. I have always been inspired by the vision of the Green Book (The Development Plan) and love the fact that no matter your place in life – there is a home for you at Central Park," said Herndon. "I just moved into my second home — this time in Conservatory Green– and had my second child, who I look forward to raising here."
Herndon began his career in politics around the same time as his move to Central Park. A proud graduate of the U.S. Military Academy at West Point in 1999 with a degree in Systems Engineering, he later became a Captain, overseeing 100 troops and machinery in Iraq and Kosovo. He considers his military service to the country his proudest accomplishment.
This commitment to public service was the impetus for his next chapter. He began getting involved in the community even before he moved into his first home — when he attended a Central Park United Neighbors (CPUN) meeting and noticed his future block needed a block captain. Soon after, he took on a board position for the Central Park United Neighborhoods and decided to run for City Council the following year in 2010.
"I just care about public service," said Councilman Herndon. "Whether it's as an elected official or working for a non-profit. As long as I'm serving, I'm happy."
After his election in 2011, Chris founded Northeast Denver Leadership Week, a free, week-long leadership program for students in District 11. Chris believes it is vital for young people to see leaders in action. Northeast Denver Leadership Week gives students the chance to interact with those professionals who are driving change and finding success in our communities. In the program's first year in 2011, they had nine students. Last month — June 2015, 80 area students participated in the free program. Several of the locations were in or very near the community.
Leveraging his business background, Chris advocates for business creation across the city. Within the district he partners with Denver International Airport to help bring local vendors to the airport's international market and is actively involved in his community. He was recently named one of Denver Business Journal's 40 Under 40 Winners–alongside his wife who also received the honor.
Since moving to Central Park, Herndon became fascinated with the future for the former air traffic control tower and spearheaded efforts to help find a solution and best use for the iconic structure. He helped determine that the community wanted something local, something unique, and something they could bring their families to…which led him to the CEO of Punch Bowl Social– Robert Thompson. They worked together to bring the entertainment concept to life and Punch Bowl is scheduled to open in the Tower in Spring 2016.
Herndon's commitment to service doesn't end with his day job. Since moving to Denver he has continued to find ways to give back.  He has served on several community boards, tutored Montbello High School students, and helped bring financial literacy courses to the district.
"I have a very busy life, so I appreciate that Central Park has amazing amenities like the Central Park Rec Center where I work out four days a week and swim with my family," he said. "During the summer, I love to run through the community—there are so many different places you can get out and run and explore. I am a die-hard fan of Four Friends Kitchen and plan to be at Punch Bowl Social a lot."
The Central Park community is among Denver's most dynamic and vibrant—filled with passionate people who believe in strong community involvement and improving the world around them. Central Park is home to an eclectic mix of growing families, young professionals, empty nesters and numerous stand-out community leaders who are making positive change throughout Denver, the region and the world. Councilman Herndon is one of those people.