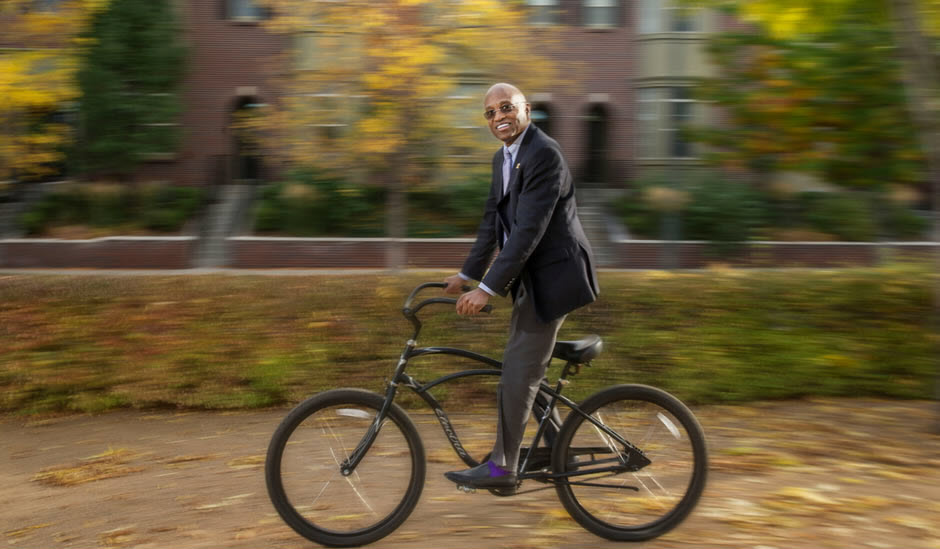 As a first generation college graduate and only one of his five siblings to graduate college, Dr. Everette Freeman knows a thing or two about how education creates a path to success and changes lives. Currently, the President of The Community College of Denver, (CCD) Dr. Freeman has committed a large portion of his life and career to academia. He left his post in October 2013 as President of Albany State University in Georgia to venture out West and take the position as President of CCD. He was passionate about taking the job because he saw a unique opportunity to lead an organization that makes higher education accessible to all people, regardless of socioeconomic status, race or age.
"I suspected that one day the President of the United States would say something along the lines that all community colleges should offer free tuition," said Dr. Freeman. "It was becoming clear just how important affordable higher education would become, and I knew this is where the action was in the higher education field."
In January of 2015, President Obama proposed making two years of community college free for anyone who was willing to work for it. His proposal would have saved a full-time community college
student an average of $3,800 in tuition per year and benefited about 9 million students. The proposal didn't pass, but like most other community colleges, CCD is still the most affordable option in the state. Tuition costs about 40 percent less than other in-state institutions and offers significant aid to students in need. Students can attend CCD for two years with support to transfer to a four-year college as a junior. The school educates roughly 8,200 students and is located in the heart of downtown Denver on the Auraria campus.
"Getting the first two years of coursework completed at a community college offers the best value proposition for incoming freshman and prepares students to get into the top universities in the
country," commented Dr. Freeman. "Not to mention, I would match our faculty against any others in higher education anywhere in the country. They are outstanding!"
Community College of Denver's educational programs are designed to enrich the social, civic, and economic fabric of our community, nation, and world. CCD is dedicated to expanding access,
particularly for underserved first-generation and minority students. Nearly 50 percent of CCD students are first-generation and over 60 percent qualify for financial aid. At CCD, students have the
opportunity to become the person they aspire to be—to reach and strive to improve their lives and make their dreams a reality. Through innovation, open exploration of ideas, and preparation of a
well-trained workforce, CCD enriches democracy and supports a vibrant local economy.
Dr. Freeman's decision to move to Central Park came after he checked out many other areas of Denver, including downtown and Park Hill. He happened to walk into the Central Park Visitor Center and had an engaging conversation with Community Ambassador, Virginia "Gin" Butler. Her passion for the community was contagious, and Dr. Freeman continued to return to the neighborhood. He soon realized it had everything he was looking for: access to public transportation, a diverse mix of people and nearby restaurants and entertainment.
"I love that [Central Park] is designed to be a mixed community—with varying education levels, economic, demographics and diverse population of residents," said Freeman. "It makes for a vibrant and interesting place to live."
He lives in a Boulder Creek Neighborhoods home in the Conservatory Green Neighborhood, ideally located a few blocks from Northfield's numerous shops, restaurants and services. "Many of the restaurants I frequent in the neighborhood are as good as anywhere in the city," said Dr. Freeman. "I enjoy Zen Sushi , Jim N Nick's , and Texas De Brazil and I love that I don't have to bother to get in the car."
Dr. Freeman also enjoys playing golf and listening to jazz and classics. He remains on the board for the Colorado Symphony, which he considers one of the best orchestras in the country and a jewel for the city.
The Central Park community is among Denver's most dynamic and vibrant—filled with passionate people who believe in strong community involvement and improving the world around them. Central Park is home to an eclectic mix of growing families, young professionals, empty nesters and numerous stand-out community leaders who are making positive change throughout Denver, the region and the world. One such person is the President of the Community College of Denver, Dr. Everette Freeman…