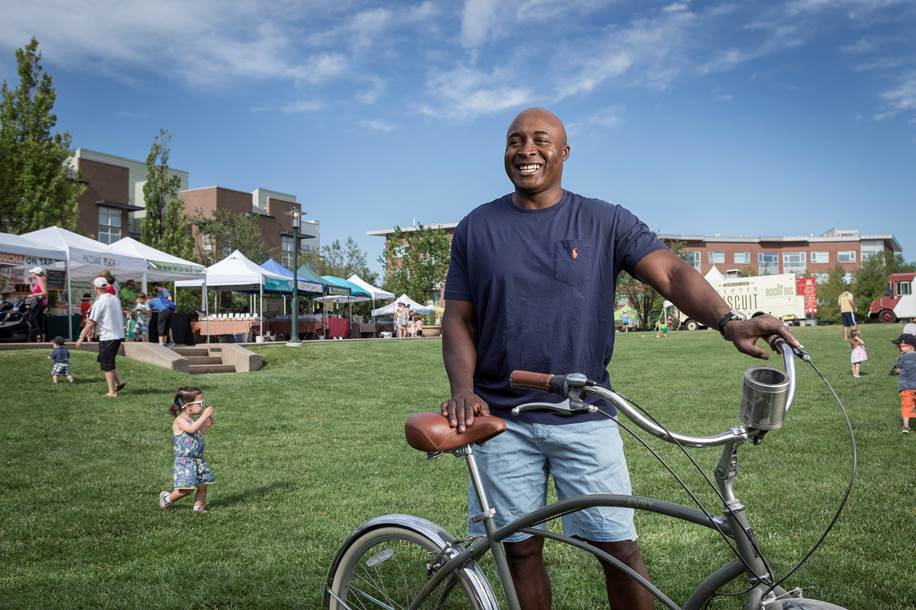 Judge Andre Rudolph is one of Central Park's earliest residents—building his current home more than 12 years ago when the community was still a vision in the Green Book. As one of the early members of the SDC Board, he has watched the community take shape over the last decade.
"I could tell right away Central Park was going to be a great community for our growing family, but I still had to convince my wife!" said Judge Rudolph. "As soon as I took her to the pool over the Fourth of July holiday and she got a sense of the community, the residents and the amenities, we realized it was the right place for us and have never looked back."
To this day, some of the Judge's favorite places in the community are Aviator pool and the numerous biking trails throughout the parks and open space. He enjoys taking his two daughters to all the activities on the Green—from the concerts, to the movies, to the Farmers Markets. His favorite community event being the Beer Festival.
"I have seen the neighborhood grow and evolve, but what never changes is the incredible sense of community spirit," he said. "No matter how big it gets, it still remains all one community."
Judge Rudolph began his legal career in the Colorado Public Defenders Office. He received his undergraduate degree from the University of Wyoming and his law degree from Creighton University School of Law in Omaha, Nebraska. Judge Rudolph currently presides over criminal matters in the Denver County Court. Prior to his appointment to the Denver County Court in September 2004, Judge Rudolph was a Denver District Court magistrate for the Drug Court in Denver from 1999 to 2003.  Later, he was a magistrate for Adams County wherein he presided over traffic, criminal, protection orders, small claims and truancy issues.  He was raised by his strong willed, tough but loving grandmother who proved to be his rock in his parents' absence. She instilled in him mental toughness, perseverance and a strong work ethic that he carried into his career.
"I knew early on that I wanted to help people succeed and realized that everybody faces their own set of challenges," commented Judge Rudolph.  "I didn't have many black mentors in the legal field growing up but still believed in myself—which is why I can challenge the kids I encounter every day and ask them what's their excuse?"
When his wife was pregnant with their first daughter in 2002, they enrolled in baby birthing class where he fortuitously met a then restaurateur John Hickenlooper. Judge Rudolph became a strong supporter during Hickenlooper's Mayoral campaign. When Hickenlooper was elected Mayor of Denver, Rudolph became his first judicial appointee for City and County of Denver.
"I like to joke around with Hickenlooper about being his 'first'," said Judge Rudolph, "His first judicial appointee that is…"
He was appointed in 2004 and took office in 2005, and when he is not serving in court, he can be found frequenting The Berkshire or working out at Orangetheory Fitness breaking a sweat. You may even find him officiating the occasional wedding ceremony right in East 29th Avenue Town Center.
"I have officiated numerous weddings right in the center of Central Park. If a couple comes to the courthouse to be married and we don't have the time to fit them in, I will offer them the chance to come to the beautiful fountains in Town Center and have their ceremony there." said Judge Rudolph. "Don't be surprised if you see me in my robe conducting a wedding ceremony from time to time. The couple is always thrilled with the beauty around them."
The Central Park community is among Denver's most dynamic and vibrant—filled with passionate residents that believe in strong community involvement and improving the world around them. Among its 19,000 residents, Central Park is home an eclectic mix of growing families, young professionals, empty nesters and numerous stand-out community leaders that are making positive change throughout Denver, the region and the world. One such resident is the Honorable Judge Andre Rudolph…