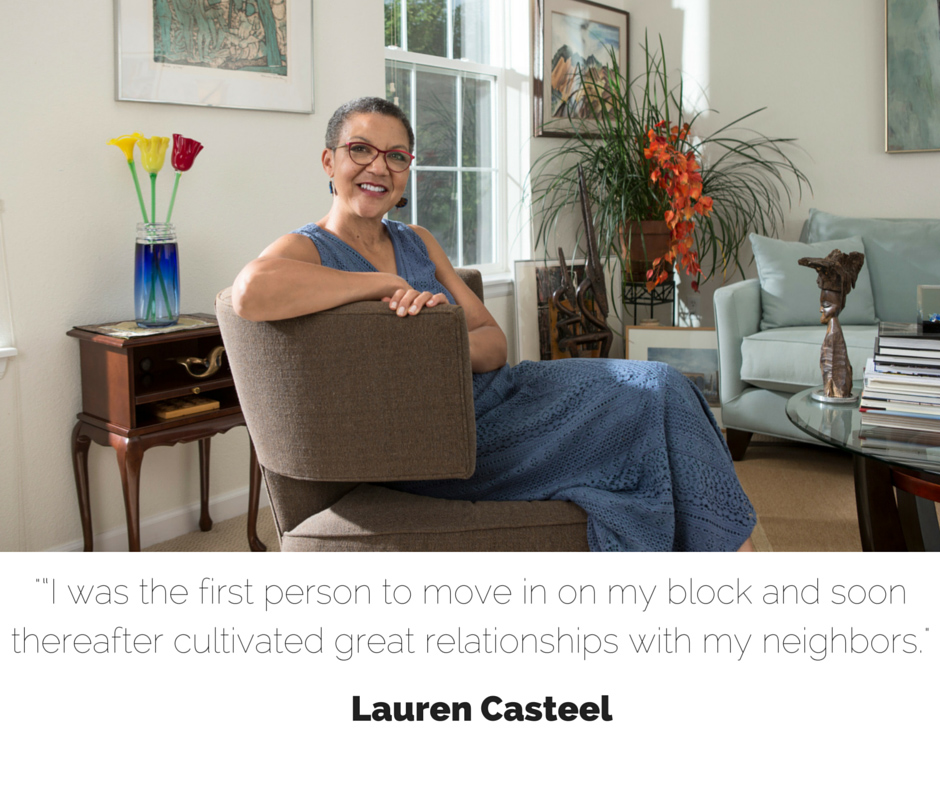 If one were to call Lauren Y. Casteel a trailblazer, they would be right. If they were to call her extraordinary, they would also be right. But true to her selfless sensibility, she would dispute both statements.  Currently, the CEO of The Women's Foundation of Colorado, Casteel is the first person in the state to lead three foundations, and she possesses more than 20 years of philanthropic leadership in Denver and throughout Colorado—having won numerous accolades, including a recent induction into the Colorado Women's Hall of Fame. She has been named as one of the "25 Most Powerful Women" of 2015 by the Colorado Women's Chamber; one of the Denver Business Journal's 2015 Nonprofit/Foundation Newsmakers; and "Timeless Legend" by Denver's Urban Spectrum Newspaper; to name a few. Casteel attributes her success to the opportunities she was given not the path that she has forged. She believes her success–and everyone else's–is largely thanks to the critical fact that someone saw something special in her along the way and gave her the chance she needed to reach her potential.
"I am not exceptional and much of my learning comes from my mistakes," said Casteel. "I have been given opportunities by people along the way who made it possible for me to become who I am today and reach my fullest potential. It is my passion to do the same for others because I believe everyone–regardless of race, religion, sexual orientation, gender expression, age, gender or socioeconomic status– should be celebrated for the individual gifts they offer the world."
Casteel even attributes the incredible success of her own daughter Jordan, who is currently an artist in residence at Studio Museum in Harlem, as the product of a perceptive teacher. Her daughter started drawing while at East High School when her art teacher noticed a knack and set her on the path that has propelled her to become a nationally recognized emerging artist.
"My home is filled with her childhood art, and I love going to see her current work in galleries, but unfortunately I can't afford to buy any of it," joked Casteel.
Casteel grew up in the segregated South and then New York with Whitney M. Young Jr., a national civil rights leader as her father. He and her mother ingrained in her core values and principles of what a just society looks like.
"I began to learn the importance of building alliances among and between different people and learned that everyone should be seen for who they are," said Casteel. "Everyone owns a piece of the truth."
After a tumultuous year in 1971, rife with a series of personal tragedies including the death of her father and grandfather, she decided she needed to find her own path and headed west to Colorado to finish her degree at the University of Colorado.
"Denver was still a very small city that offered me an opportunity to discover myself and a wide open space to make a difference," said Casteel. "I began my new journey in the world of local media, which introduced me to many fascinating community leaders and politics and invited me into my calling for civil service."
Casteel lived in Park Hill for 30 years and raised her three children there. She quickly became a member of the community and fell in love with the neighborhood. After her kids left home, she was ready to downsize but wanted to remain close to the Park Hill community. Looking for opportunity to feel a sense of her neighbors she moved to a Row Home in South End neighborhood that offered a strong sense of community.
"I was the first person to move in on my block and soon thereafter cultivated great relationships with my neighbors. We all happen to be single women, but that's where the similarities end," commented Casteel. "There is a 25-year age range between us, and we have completely different backgrounds and perspectives, but we immediately began to support each other and watch out for each other. I love the lively conversations we have over the gate and feel a sense of community and mutual responsibility for each other."
Casteel considers her home her safe haven and the place she goes to take a break from the very active and public life she leads. She loves the many places in the neighborhood that bring people together including the Sam Gary Library and Founders Green and loves getting her nails done at 29th Avenue Nail Salon.  She still remains very connected to Park Hill and frequents the businesses there regularly from the bakery to the dry cleaner to the widely acclaimed Bistro Barbes next to her barbershop House of Hair. But one of her favorite places to go in the area is King Soopers.
"I feel at home in King Soopers and love the presence of organized chaos and the full range of new and young families," said Casteel. "I see friends and employees I have known for years."
Prior to her appointment at The Women's Foundation of Colorado, Lauren served at The Denver Foundation for 16 years, most recently as vice president of philanthropic partnerships, the first person to serve in this role. There, she launched The Inclusiveness Project, a program that increased the inclusiveness of people of color at Metro Denver nonprofits. This program changed the face of Colorado's nonprofit community and engendered national attention when it won the Council on Foundations' Critical Impact Award.
The Central Park community is among Denver's most dynamic and vibrant—filled with passionate people who believe in strong community involvement and improving the world around them. Central Park is home to an eclectic mix of growing families, young professionals, empty nesters and numerous stand-out community leaders who are making positive change throughout Denver, the region and the world. One such person is the CEO of the Women's Foundation of Colorado, Lauren Casteel…