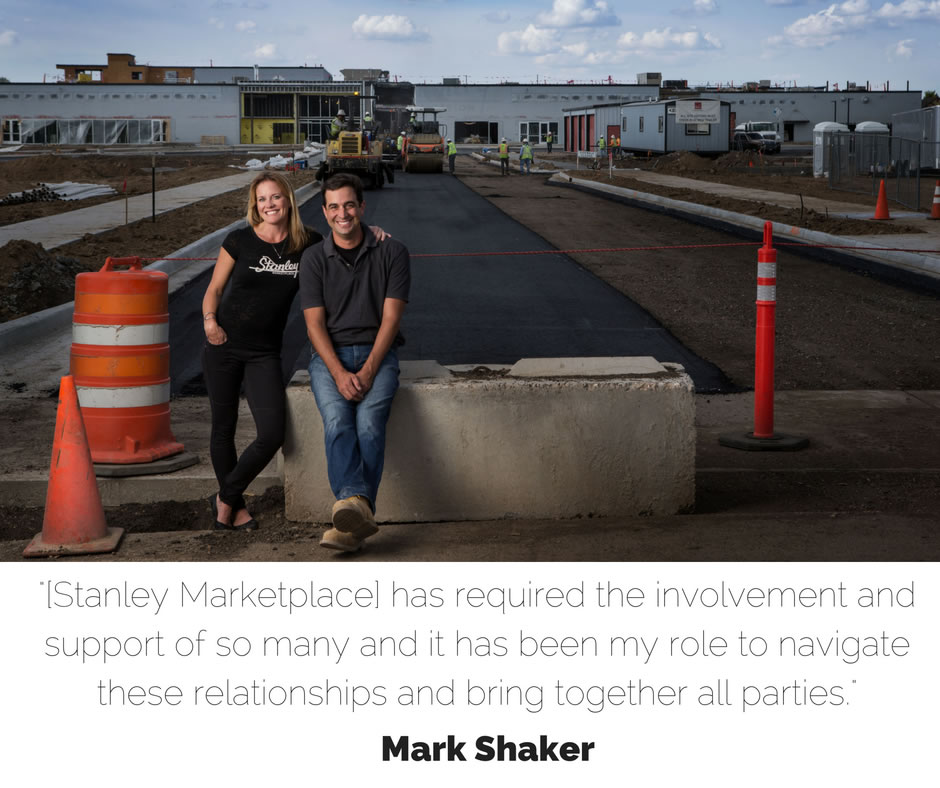 Many know Central Park resident Mark Shaker as the man behind Stanley Marketplace, the highly anticipated renovation of an abandoned manufacturing plant into an urban marketplace in Northwest Aurora.  But most people don't realize that Shaker's background is not in real estate, but instead as a social worker who spent years serving the people of West Africa, helping build hospitals and working with local communities to raise awareness and funds for women's obstetric health.  Inspired by the African markets, Shaker wants Stanley Marketplace to be a gathering place for people across the city to connect and spend their day. His main goal for this project is to bring communities together by offering something positive for everyone.
"My measure of success is if people say 'let's go to Stanley and we'll figure out what we're going to do when we get there'," said Shaker. "Regardless of what they are in the mood for, their age, or demographic there will be something for everyone, and it really will be a destination."
Opening in 2016, Stanley is no ordinary marketplace. Located at the intersection of the Bluff Lake in Central Park and Aurora neighborhoods just east of Denver, Stanley Marketplace is a community of like-minded businesses and people who believe in doing things differently: sustainably, creatively and with more than the bottom line in mind. The more than 22-acre, 100,000 sq. ft. indoor/outdoor space was once Stanley Aviation headquarters, where airplane ejector seats were engineered and manufactured; now it is an adaptive reuse community hub, home to a park, beer hall and more. Today, the same innovative spirit that once filled this building has been harnessed to offer community members an urban marketplace featuring goods and services from local and independent businesses, as well as a robust philanthropic and community outreach program, including Charity of the Month and First Jobs programs.
The space is nearly 100 percent leased and businesses will begin opening this Fall on a rolling build-out schedule. Some of Denver's most notable businesses are taking up residence at Stanley. (See complete list below)
"People call me a real estate developer, but I'm not really. I'm a social worker. I look at things differently to find creative solutions and engage stakeholders," he says. "This perspective has made a project of this size and scope possible."
In 2009, Shaker was living in his first Central Park home and was getting a Master's degree at the University of Denver. He became aware of a health crisis in Niger, Africa, that affected expectant mothers. After becoming engaged with a non-profit organization and later taking the job of CEO, he flew to Niger to set up the groundwork to build a freestanding obstetric hospital. Soon after arriving in Niger, Shaker realized they couldn't start construction.
"There were a variety of complex issues including religious and political differences that were keeping neighboring tribes apart," said Shaker. "I realized a strong need to bring together various stakeholders from the region in order to ensure the hospital would be a success."
He carefully navigated the web of stakeholders, including the tribal chiefs, government leaders, the Ministry of Health, the women and families affected and was able to build a hospital that is now a model for other prevention programs. He returned home and started working on Stanley Marketplace as his next passion for bringing together different communities.
Located on the boundary between Central Park and Aurora, Stanley Marketplace has its own network of stakeholders. Much like in Niger, Shaker has figured out how to engage the various groups to work together.
"This project has required the involvement and support of so many and it has been my role to navigate these relationships and bring together all parties," said Shaker.
He lives in his third home in Central Park West with his wife Krystal and two young kids. There are several events scheduled to take place this Fall at Stanley Marketplace including The Big Wonderful Blues & Brews Festival featuring Otis Taylor over Labor Day weekend.
The Central Park community is among Denver's most dynamic and vibrant—filled with passionate people who believe in strong community involvement and improving the world around them. Central Park is home to an eclectic mix of growing families, young professionals, empty nesters and numerous stand-out community leaders who are making positive change throughout Denver, the region and the world. One such person is the visionary behind Stanley Marketplace, Mark Shaker…