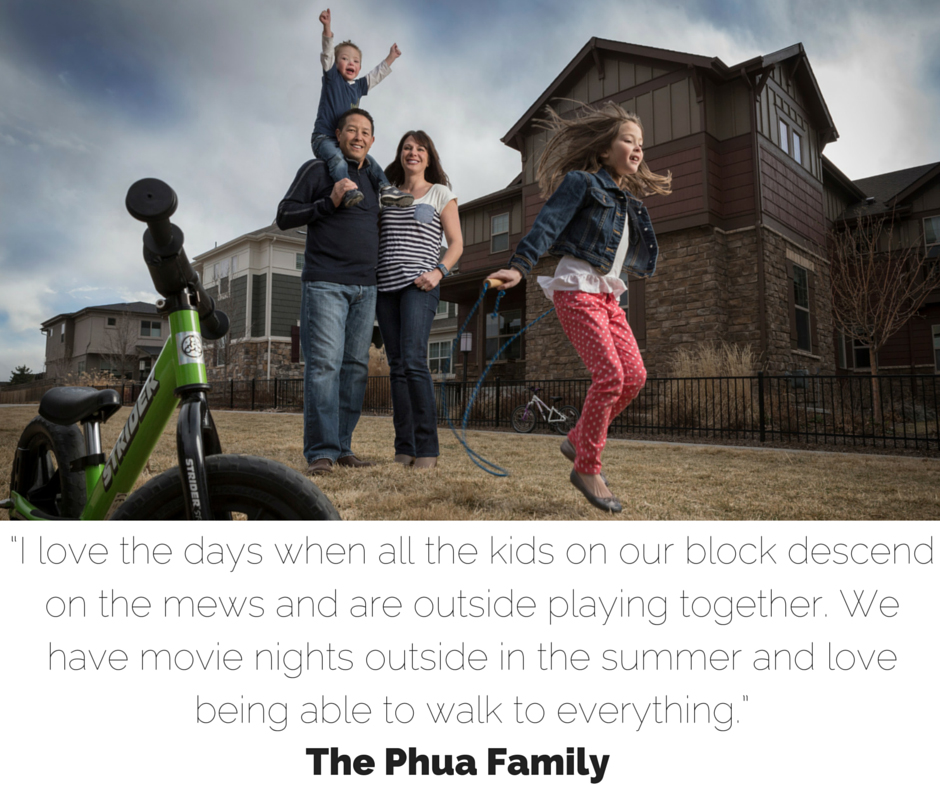 Steve and Brittney Phua are what you might call "do-gooders"—those special people who have dedicated their lives to being the change they want to see to the world. In his role as president and CEO of Wonderland Homes, Steve Phua has been building homes in Central Park since the community came to life, and moved to the neighborhood in 2005 with his wife Brittney. Together, they are committed to giving back to their community and have inspired others to get involved along the way.
"I love when my 8 year-old daughter is in the car with me and she starts pointing out all the houses that daddy built," said Steve Phua. "It's one of the greatest memories I will have, and it's one of the reasons I am proud to call Central Park home."
Wonderland Homes is celebrating its 50th year in business and was among the first builders in Central Park more than 13 years ago—but with Steve at the helm—they do much more than just build brick and mortar homes. Steve is on the Board of Directors for the IN! Foundation, which works towards inclusionary college education for people with intellectual disabilities and Home-Aid Colorado. In 2010 Wonderland teamed up with HomeAid and the Volunteers of America, and constructed and donated a home in Mayfair to provide transitional housing to homeless female veterans and their children.
"Many people have dreamed about someday owning a company, and for me part of that dream was to surround myself with talented individuals who dare to be elite, are always looking for ways to improve, who genuinely care about the dreams we create," says Steve.
That method has worked. In 2013, Wonderland was recognized as the third fastest growing privately held company in Denver by the Denver Business Journal, and was the recipient of the HAP Award in 2014 and 2015 by the Home Builders Association, which recognizes builders who operate with the highest corporate ethics and integrity.  These types of values help Wonderland succeed in the community because they align so well with the vision of Forest City (now Brookfield Properties). In fact, last year the two companies participated in Operation Finally Home, which gave a brand new home to a deserving veteran.
"We partnered with Operation Finally Home because we believed in their mission to provide mortgage-free homes for returning veterans who proudly served our country but are unable to continue doing so due to injuries sustained during deployment," said Steve.  "With the generous donation of the homesite provided by Forest City (now Brookfield Properties), and contributions from trade partners, suppliers, local businesses, and individuals, we were able to provide this dream for a family of five and a two-time purple-heart recipient."
While Wonderland was able to provide a roof over their head and a house where they could all have their own rooms, Central Park has provided much more to the veteran and this family. This family was welcomed with open arms into the neighborhood and have found a community where they can raise their children and find peace. In turn, this family has opened the community's eyes to an ongoing need to support our returning soldiers and simply do more.
Wonderland Homes also supports the Home Builder Foundation by participating in their "ramp-blitz" every year.  Members of their team volunteer to build a ramp each year for wheelchair bound individuals who do not currently have access into their own homes. Typically, they rely on family members or friends to provide help entering their own home.
"The ramp-blitz offers a sense of freedom…and it's amazing to watch their faces when you see them able to enter their own home unassisted," said Steve. "Watching an 8 year-old girl, who had to rely on her father or 11 year-old sister carry her up the steps into the house everytime be able to roll out onto a front porch large enough for her to play on and gain access in and out of the home…that's guaranteed tears of joy."
But Steve is not the only one making change. In addition to chasing their two kids Max and Maya around the mews, Brittney is involved in numerous organizations. She is actively involved in the Rocky Mountain Down Syndrome Association, and the Leadership Council for Home-Aid Colorado, where she organizes regular essentials drives in the community with the help of her daughter, who together collect thousands of dollars' worth of important items like diapers and food for families in need. She rallies her friends and neighbors in the community through her impassioned spirit.
"My favorite thing about living here is the strong community spirit and the fact that everyone works and plays together," said Brittney. "I love the days when all the kids on our block descend on the mews and are outside playing together. We have movie nights outside in the summer and love being able to walk to everything."
The Central Park community is among Denver's most dynamic and vibrant—filled with passionate people who believe in strong community involvement and improving the world around them. Central Park is home to an eclectic mix of growing families, young professionals, empty nesters and numerous stand-out community leaders who are making positive change throughout Denver, the region and the world. One such family are the Phua's…