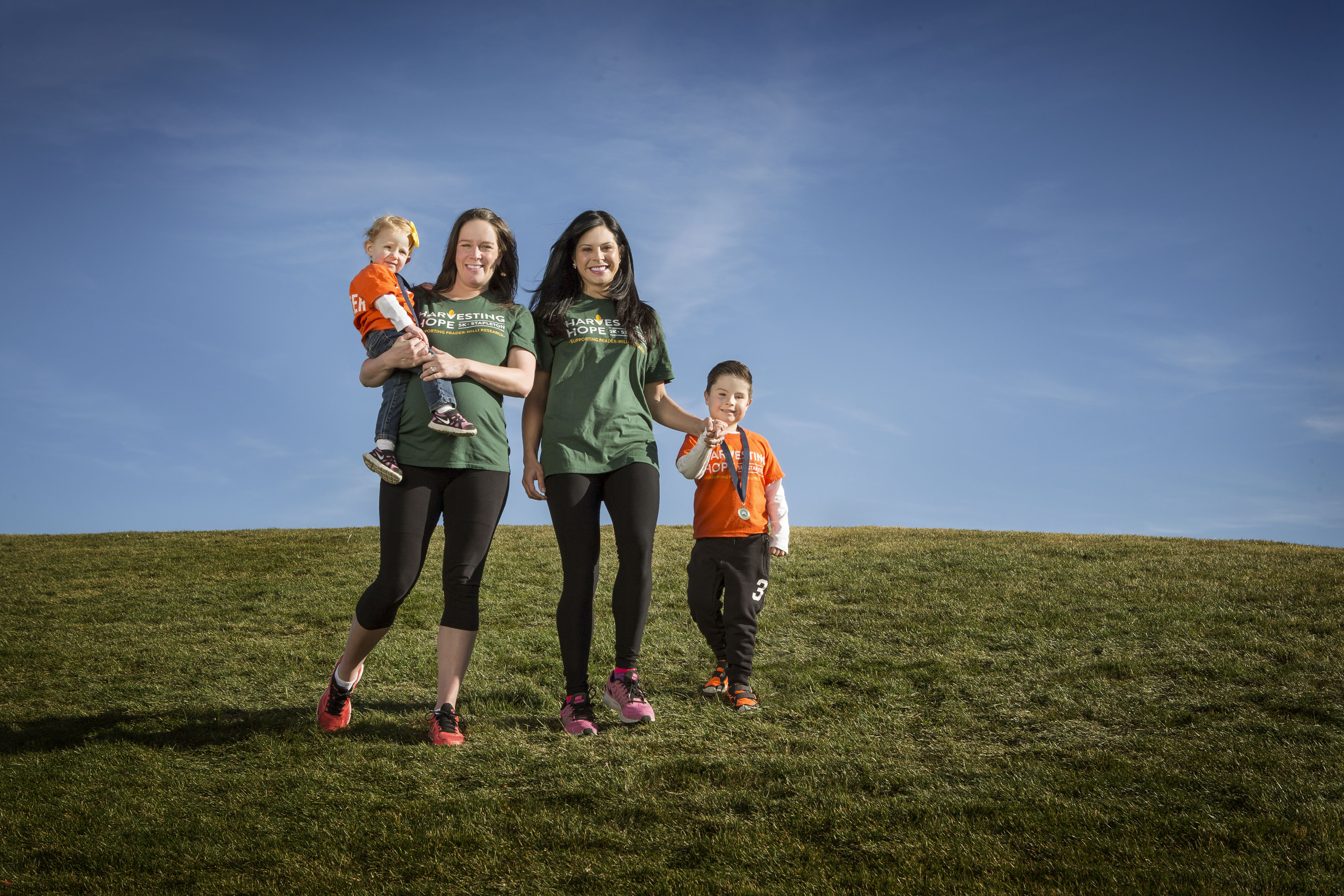 For most parents, getting news that your child is diagnosed with a rare genetic disease that leads to a life-threatening struggle with obesity, would stop life in its tracks. But two Central Park moms decided to go in a different direction— coming together in their battle to create positive change for their children and the community.  Last year, Rachael Fisher and Julie Foge, both residents and mothers of children with Prader- Willi Syndrome (PWS), a rare genetic disease that results in insatiable hunger, created the first annual Harvesting Hope 5k Race on Thanksgiving Day. This event serves to raise awareness for the fight against childhood obesity, and more specifically Prader-Willi Syndrome.  Both moms, parents to Jude (age 5) and Eliza (age 2) wanted to give their children the opportunity to participate in a healthy fitness oriented race on Thanksgiving Day that would bring the community together and create a new tradition in the neighborhood that transcended the standard mealtime.
"The obesity rate in Colorado is about 30%, so this is an epidemic that affects many families," said Fischer. "Thanksgiving is all about food, which for our children can be very challenging. We wanted to create a new tradition that celebrates being active, healthy and together as a community on this wonderful holiday, and luckily our health-minded community was eager to support the cause."
Fischer and Foge were introduced by their pediatrician after receiving the diagnosis and immediately hit it off. They were shocked and grateful to find another Prader-Willi family in the neighborhood given the fact that only one in every 15,000 kids receives this diagnosis in the United States. Fischer had been in the early stages of planning the race when they were introduced and Julie jumped right in to help.
"Through this process I have realized how important it is to find a village of support through life's up and downs," said Foge. "Central Park is one large village and we are lucky to live in a community that truly comes together to help one another without judgment."
In its first year, the Harvesting Hope 5K was a tremendous success and brought 624 people out to Central Park on a frigid and windy Thanksgiving Day with temps below freezing.
"Traditionally, Thanksgiving is the most popular day of the year for a race, but there was only one 'turkey trot' in the City of Denver on Thanksgiving Day," noted Fischer. "Wash Park's longtime Turkey Trot is a great event, but has largely reached capacity and can prove challenging to get to from Northeast Denver, which led me to creating our own race for the people in this area."
They quickly ran into a hurdle, when the City of Denver placed a moratorium on new races in the city. Ultimately their tenacity and resourcefulness won out…they did their research and worked closely with community leaders from the area including Forest City (now Brookfield Properties), the MCA and Councilman Christopher Herndon. Not only were they supportive, but they were instrumental in getting the necessary waiver and exemptions to make the race possible– agreeing to co-sponsor the event, covering the permit fees and ensuring the race could be an annual tradition.
"We are so appreciative of all the people willing to take a chance on this event and trusting the great people of Northeast Denver would get behind it," said Foge. "We had no experience in race planning and were just two passionate moms that wanted to do something for our kids and the community. It has been incredible to witness the love, support, and excitement in this community and we are confident it will remain an annual tradition."
This year's race is expected to double in size and takes place on November 24 at Central Park. It will include a timed 5K, a kids' 1K fun run/walk (free for kids under 10), Kids Zone with balloons, bounce houses, free prizes from Timbuk Toys (including a full size strider bike), DJ, and several other family-friendly activities. One hundred percent of the proceeds will go to raise awareness and research dollars to find treatments for PWS. This year every penny raised will be matched by an anonymous donor through Thanksgiving day.
Registration will include a t-shirt, swag bag, and timed results along with free entertainment.
The Central Park community is among Denver's most dynamic and vibrant—filled with passionate people who believe in strong community involvement and improving the world around them. Central Park is home to an eclectic mix of growing families, young professionals, empty nesters and numerous stand-out community leaders who are making positive change throughout Denver, the region and the world. Rachael Fischer and Julie Foge are two such women….