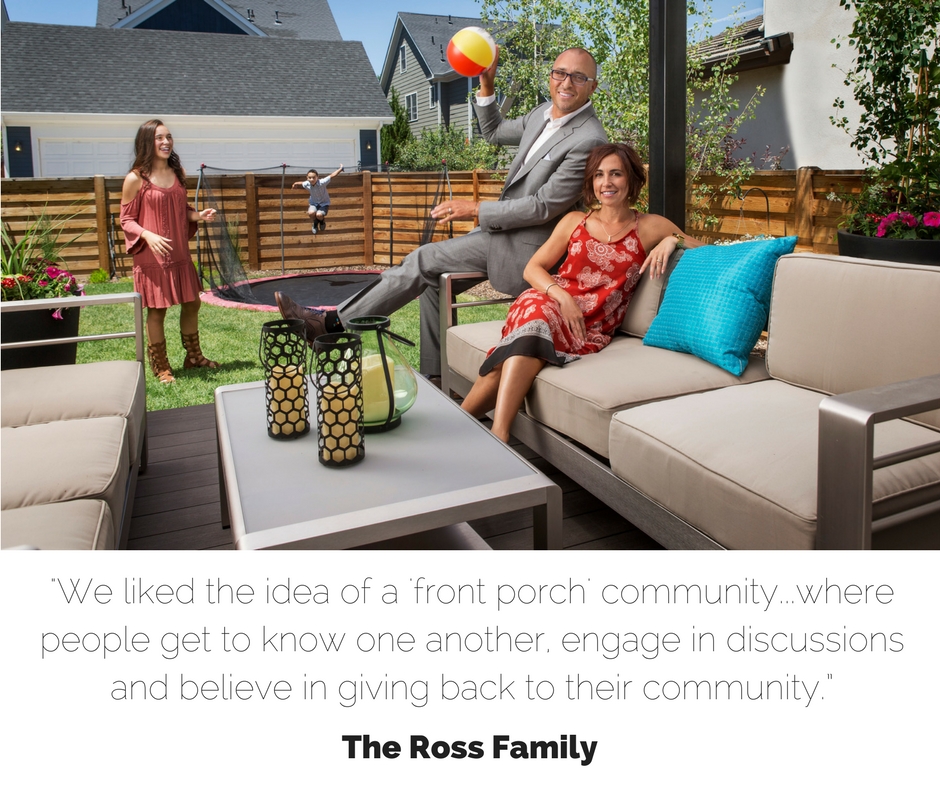 Marissa and Justin Ross, owners of Stapleton Mortgage and Realty are well known in the community…their business posters are proudly displayed at area pools, and they sponsor and attend numerous local events throughout the year. Many don't know that they are also among Central Park's first residents, and since building their first home in 2002, have truly embraced the concept of 'loving thy neighborhood." They also personify what being a good neighbor is all about–and go far beyond just shoveling snow or taking out their trash for neighbors. They are involved in the community at the most fundamental level– and have been at it for the last 15 years. In fact, before there were tree lined streets or parks, stores or schools, Marissa and her husband Justin were helping forge the strong community spirit that is now its most defining characteristic.
They moved into the community in June 2002 from Northeast Denver in search of their forever home and a place they could start their mortgage and real estate business. They were the second home to be built and for a good portion of the year didn't have a single neighbor on their street.
"Despite being one of the only families here, we were confident in the overall vision and liked the idea of a "front porch" community where people engaged with neighbors and didn't just pull into their garage and go inside for the evening," said Marissa Ross. "Instead, people get to know one another, engage in discussions and believe in giving back to their community."
It didn't take long for the streets to begin filling up with homes and for their business, Stapleton Mortgage, to take off. They assisted buyers in financing their homes in the community and surrounding neighborhoods. From the beginning, the Ross's supported the vision of the community by volunteering their time to numerous community organizations. They were among the first SUN Block Captains, joined the Citizens Advisory Board and were instrumental in advocating for diverse housing in the area through their work on the Housing Diversity Committee. Justin was a mayoral appointee of the SDC and serves as President and long time member of the Central Park Business Association. Both are active in the Westerly Creek PTA for 10+ years and have donated thousands to local schools in the community.
"This place gives people the opportunity to be heard and involved and the unique ability to be influential," said Justin Ross. "My kids think it's cool to hear their parents are out there making changes and we believe in teaching them to advocate for themselves and their beliefs."
As the neighborhood has taken shape, so has Stapleton Mortgage, known now as "Stapleton Mortgage & Realty", and a tenant of Stanley Marketplace, they are located squarely in the hub of activity and can be found in their new state-the-art office on the second floor.
"We take pride in our commitment to building and shaping a dynamic future—be it through helping borrowers, lending support to the creation of successful schools, serving on development boards and advocating for opportunities in housing diversity, or supporting the growth of local businesses," commented Justin Ross.
The Ross's have three children and spend a lot of time supporting their extracurricular activities including dance and Lacrosse. Justin is an avid golfer and loves to play at Green Valley Ranch Golf Club and City Park Golf Course. When she is not working, Marissa can be found spending time with her family, or working out at Bladium where she is an active member.
The Central Park community is among Denver's most dynamic and vibrant—filled with passionate people who believe in strong community involvement and improving the world around them. Central Park is home to an eclectic mix of growing families, young professionals, empty nesters and numerous stand-out community leaders who are making positive change throughout Denver, the region and the world.