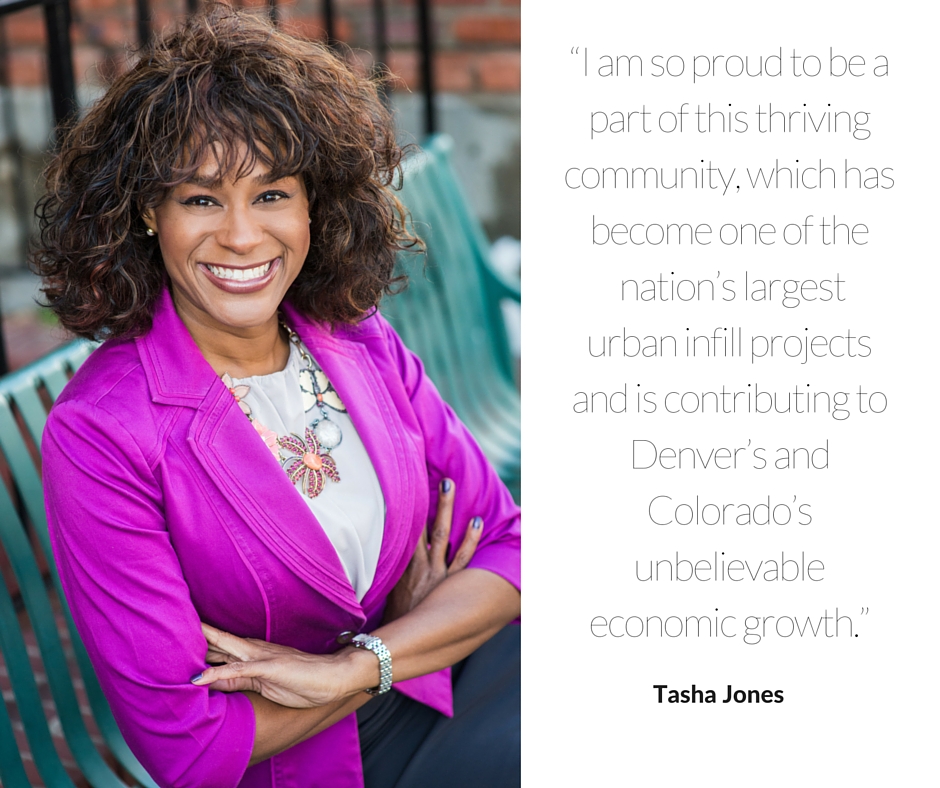 UPDATE: Was named to the Colorado Women's Chamber of Commerce 2019 Top 25 Most Powerful Women in Business!
For more than a decade, Tasha Jones has brought the story of the transformation of Denver's former international airport to life by celebrating the growth of the community redevelopment through new neighborhood launches, advertising campaigns, memorable branding and national promotions. She has lived and breathed every aspect of the community, albeit behind the scenes, as the Senior Director of Marketing + Community Relations for Forest City (now Brookfield Properties). Celebrating her 10 year anniversary this month, Jones is a rising star of the development world. Her vision has been a driving force behind the unprecedented success of the community, which was ranked the #4 best-selling master planned community in mid-2015.
"I am so proud to be a part of this thriving community, which has become one of the nation's largest urban infill projects and is contributing to Denver's and Colorado's unbelievable economic growth," said Jones. "It has been a joy to watch the community take shape, and its residents embrace the growing neighborhoods so fully."
Jones grew up in Fort Collins, Colorado during which time her father worked at the former Stapleton International Airport, contributing to her nostalgic connection to the location and her decision to take the job years later. In 1996, she graduated with a bachelor's degree in journalism and mass communication from Drake University in Des Moines, Iowa. She came to Denver in 1998 and worked in public relations and marketing at Vance Kirkland Museum & Foundation, the University of Denver and ProLogis.
She started out as a marketing coordinator at Forest City (now Brookfield Properties) in 2005, but quickly worked her way up the ladder, utilizing her work ethic, leadership skills and demonstrating her value through her creative, out-of-the box ideas that emphasized group collaboration. After a few short years, Jones was promoted to Marketing Director and worked closely with two other important female leaders on the builder program and community development teams—Lisa Hall and Heidi Majerik. The collaboration between these three women helped create a cohesive and strategic partnership that proved viable even during the economic downturn.
"While so many builders and communities went quiet during the recession, we made the critical decision to continue to stay relevant and top of mind in the market," said Jones. "This contributed to our tremendous success once the economy rebounded and has remained the case all these years."
Among Jones' most notable marketing successes involved the HGTV Green Home promotion, where she debuted the launch of Central Park West– one of the community's most sustainable neighborhoods. The HGTV Green Home is built every year in a different community across the nation that proves itself to be environmentally friendly, and then is given away in a drawing. After her boss mentioned how "cutting edge" it would be to have the 4,700-acre former airport site chosen, Jones saw an opportunity and immediately set to work. Jones led the creative team that developed the "Global Coolness" home tour marketing program, and the related tours that attracted thousands of visitors and potential homebuyers to Denver's growing master planned community.
Never resting on her laurels, Jones continues to work collaboratively in positioning for another decade of growth as the community launches multiple new neighborhoods, such as Conservatory Green and Willow Park East, located north of I-70 and The Shops at Northfield.
"In order to effectively market a community that was once a former 4,700-acre airport site, I couldn't have done it alone," commented Jones. "I am proud to say I work closely with an impressive group of marketing professionals from around Denver to collaborate on behalf of the integrated brand including social media, advertising, PR, creative development, analytics and more."
This meeting of the minds has been instrumental and a driving force behind the marketing and incredible brand positioning of the top-selling master planned community. She has risen in the ranks at Forest City (now Brookfield Properties) to become one of the key management players and oversees everything from strategic neighborhood launch planning to website to the sales tools each builder uses to sell homes.
While she has a Herculean-sized job title, her real success and leadership comes from her dedication and passion for giving back to the Denver community. Jones is involved in a variety of community organizations and projects including the Challenge Foundation Mentor Program, where she continually goes above and beyond for her mentee of 6+ years, working with underprivileged Denver students to secure internships, work experience and more. She is a graduate of the Leadership Denver Class of 2012, where she worked on numerous community outreach programs. She was also recently profiled by the Denver Business Journal in "Making Their Mark: Young Professionals Making Their Mark on Their Industries," and is a recipient of the publication's 2012 "Forty Under 40" award. Jones was most recently named a 2015 Girl Scouts of Colorado Women of Distinction inductee.
In addition to showcasing the community's vast array of housing, Jones has also been integral in promoting the lifestyle—including the pools, schools and 50+ parks, trails and open space—which align with her personal love of outdoor activities.
"I enjoy the connectivity of the park and open space system and enjoy going from Greenway Park to Westerly Creek onto Central Park," said Jones. "One of my favorite things about this community is that you can enjoy the thoughtful neighborhood design so differently at the pedestrian level whether biking, jogging or strolling throughout the 38+ miles of bike paths and trails."
The Central Park community is among Denver's most dynamic and vibrant—filled with passionate people who believe in strong community involvement and improving the world around them. Central Park is home to an eclectic mix of growing families, young professionals, empty nesters and numerous stand-out community leaders who are making positive change throughout Denver, the region and the world. One such person is Tasha Jones…