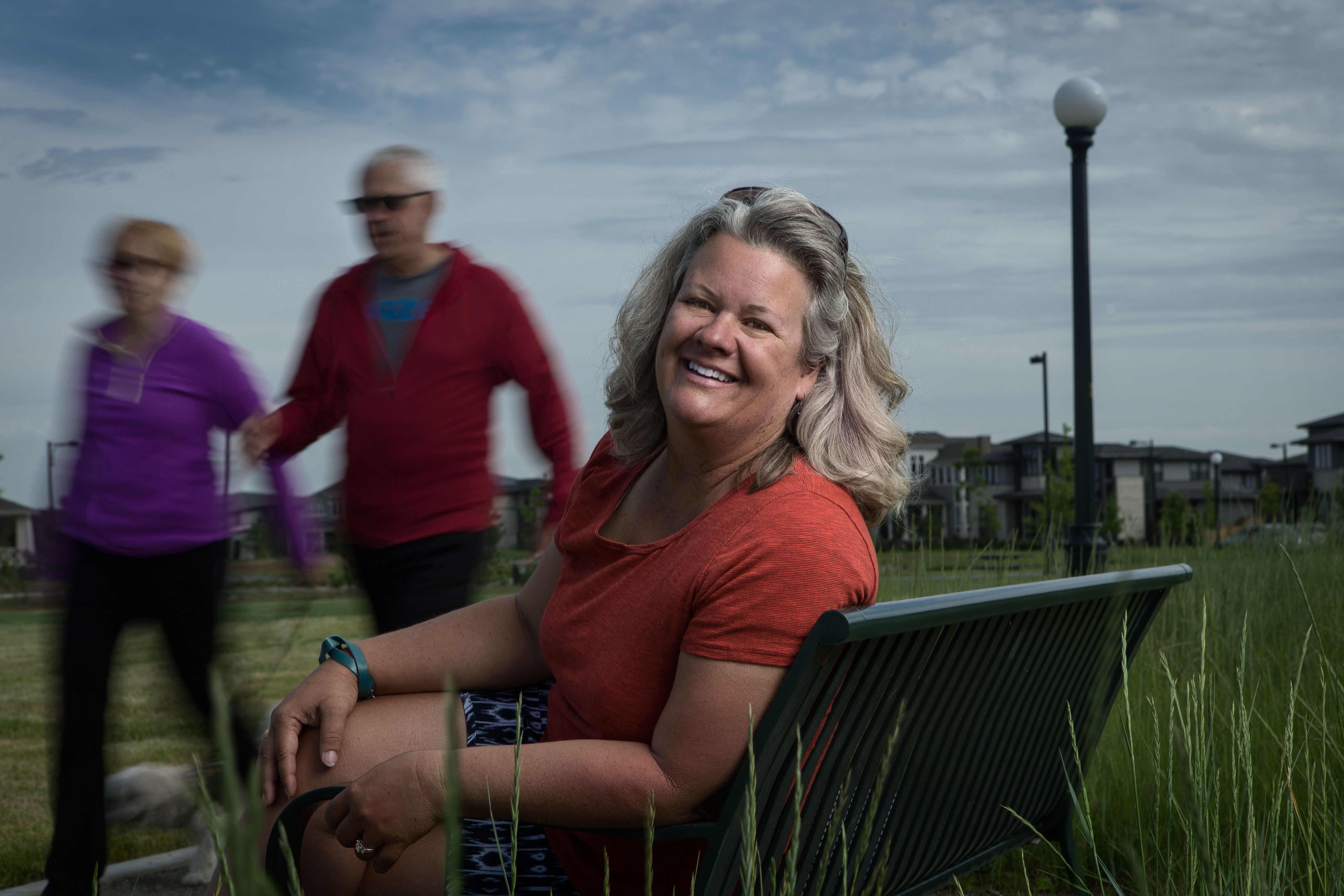 Two of the founding principles of the Green Book are connectivity and walkability—and the community is designed to enable both—whether it be connecting to downtown, the airport or with neighbors. Central Park boasts hundreds of acres of trails that connect nature with urban living and foster a walkable and bikeable lifestyle.  Chris Englert, also known as the Walking Traveler, moved to the community for just these reasons. She has always been passionate about walking and has built a business and life walking the world. Most recently, she created several walking tours in the community that join nearby neighborhoods and trails to help educate and connect people through walking.
"I believe walking is the platform for life," said Englert. "These walks bring together people of all ages, ethnicities and backgrounds and from a wide variety of Denver neighborhoods. They are all about getting to know each other and the community in a new way," said Englert. "People are often very surprised by how much Central Park has to offer."
Wanderlusting since age five, Englert has traveled to all 50 US states and 50 countries and fell in love with walking tours while visiting Moscow. She realized it was a unique way to see a city through a different, more local lens. She came back to Denver and discovered Walk2Connect—a local organization that cultivates whole health outcomes through innovative walking programs focused on connections to others, to place and to self. After falling in love with the concept, she started two walks in Central Park that aim to connect the community with nearby neighborhoods and open space, highlighting the history of the community and its many businesses.  She founded an organization in partnership with Walk2Connect, called EatWalkLearn,  which showcases the area through monthly curated walking tours including Taste of Northfield and Bison, Bombs, and BiPlanes. EatWalkLearn also works in partnership with other organizations wanting to build walking programs and vacations and to connect walkers with their communities.
"I love Central Park and want people to get on foot here," said Englert. "So many people don't realize how much there is to see and the rich history of the airport. These walks are not about the pace, they are about the experience of connecting to the community."
Englert currently also offers two weekly walks throughout the community that leave at 7am on Wednesday (from Starbucks in Northfield) and Friday morning (from Central Park Rec Center). She is in the process of creating two new walks that she hopes will appeal to tourists coming to the area to see all that Denver has to offer, including the High Line Canal segment walk in partnership with Walk2Connect and the High Line Conservancy. Another project in the works is the Nine Creeks Loop project, which she hopes will become a walking vacation destination for local and global travelers.
"What's so great about this loop is that it connects Central Park community to two great areas: one being Aurora with its historical and cultural significance; and the other being downtown Denver and all the great things there," said Englert. "Sand Creek is such a great thoroughfare that connects so many places."
The Denver Regional Trail System has hundreds of miles of trails covering many counties and areas of Colorado's Front Range. The 9 Creeks Loop traverses five of Denver's regional trails, including the Sand Creek Trail, the High Line Canal, the Toll Gate, the Cherry Creek Trail, and the Platte River Trail. Drawing a nice circumference around the city of Denver, this 40-mile loop passes through urban, suburban, creek, woods, and commercial areas, offering many views of Denver's Nine Creeks area. While enjoying this loop as a walker, you'll pass through the watersheds of First Creek, Second Creek, Sand Creek, Coal Creek, Cherry Creek, Dry Creek, Toll Gate Creek, High Line Canal, and Platte River.
"I see this being a way to promote the platform of walking in Denver and staying and participating in the amazing businesses and landscape here. People see Denver as a gateway to the Rockies and leave for the mountains, but there is so much here."
Englert lives with her husband and 13 year-old daughter in the Conservatory Green neighborhood. She frequents the many restaurants and stores in the Shops at Northfield – with her favorite being the newly opened Salati Italian Street Food, a locally owned restaurant that makes all its pasta from scratch.
"I love bringing my groups to the various local establishments in Northfield," said Englert. "There are new things opening all the time and I find that most of my time and money is spent there!"
Walk2Connect is an innovative social enterprise working to create whole-health walking programs focused on connection to others, to the places we live, and to ourselves. With thousands of individuals and a growing variety of organizational/governmental partners, our cooperative model works hard to help people and communities become healthier and more connected while also advancing awareness and education around making the walking experience safer and more accessible for all.
The Central Park community is among Denver's most dynamic and vibrant—filled with passionate people who believe in strong community involvement and improving the world around them. Central Park is home to an eclectic mix of growing families, young professionals, empty nesters and numerous stand-out community leaders who are making positive change throughout Denver, the region and the world. One such person is the founder of Eat Walk Learn, Chris Englert…