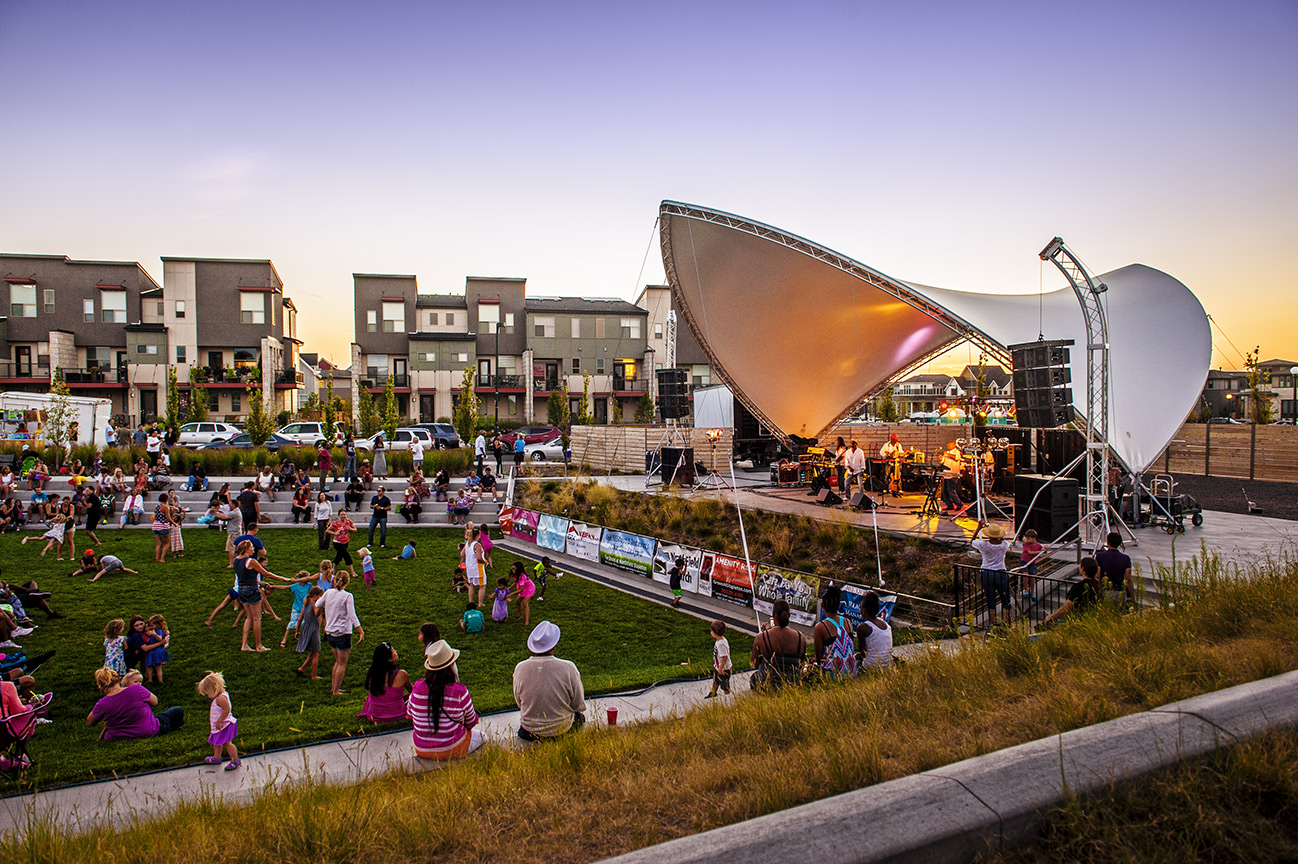 The Master Community Association (MCA) has a calendar full of events for all to enjoy. This summer boasts something for everyone, from outdoor movies and live concerts at The Green, to shopping and sampling at our outdoor markets.
Concert on the Green: The MCA hosts some of Denver's most well-known bands on the stage at Founders Green and Conservatory Green. Dance 'til you drop or just sit back and relax. Either way, it is a great way for the whole family to enjoy music under the stars. Enjoy the following bands at Founders' Green (29th & Roslyn), shows start at 6 pm:
June 3 – Darling Revival
June 17 – That 80s Band
July 1 – Thumpin'
July 15 – Ryan Chrys & Roughcuts (part of our Annual Beer Fest)
July 29 – Funkiphino
September 16 – Chris Daniels (held on the North Green as part of our Annual Beer Garden)
MoJaBlu Concert Series:  Join the MCA at Conservatory Green (49th Place & Valencia Street) and enjoy Motown, Jazz and Blues. The concert series is held on select Thursdays. Shows start at 6:30 pm. See the line-up below!
June 8 – One on One Motown Review
June 15 – Tunisia
June 22 – Wash Park Band
June 29 – Dotsero
July 6 – Wirewood Station
July 13 – Jacob Larson
July 20 – Daddy Blue
July 27 – Hot Lunch Band
Movie on the Green: Movies begin at dark at Founders' Green (29th Avenue & Roslyn Street). Each movie will feature a concession stand to benefit a local nonprofit organization. The concessions stand will sell freshly popped popcorn, candy, sodas and bottled water. Food trucks are often parked at these events, providing local goodies and food items.
June 9 – Lightyear
June 23 – The Mitchells vs. The Machines
July 7 – Selena
July 21 – Top Gun: Maverick
August 18 – Wakanda Forever
Outdoor Theater Series: The MCA partners with different production companies to provide a one-of-a-kind outdoor theater experience on the South Green (29th Ave & Roslyn).
Theatre on the Green – August 4 & 5
Opera on the Green – August 11 & 12
Farmer's Market: Every Sunday from June 25th until October 8th. Support your local growers and meet your neighbors at the Farmers Market held at Founders' Green (29th Avenue & Roslyn Street). Local vendors provide Colorado-grown produce, tasty baked goods, specialty meats, gourmet food items and more!
Learn more about all of the MCA events here +