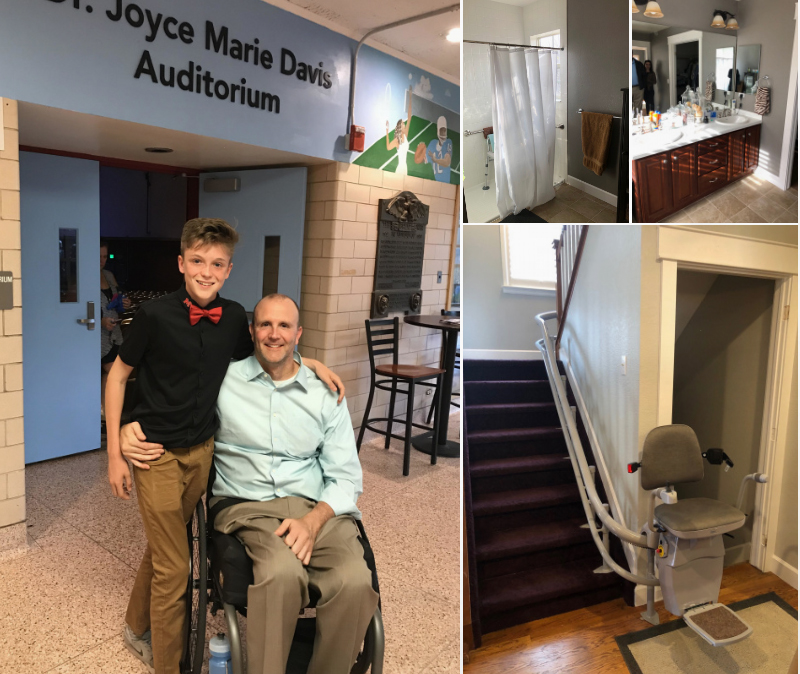 The Home Builders Foundation (HBF) recently partnered with Infinity Home Collection and Ascent Mobility to remodel the home of Bryan G. a 44-year-old Central Park resident and single father living with a spinal cord injury.
In late 2017, Bryan underwent a routine back surgery. During the surgery, Bryan suffered a spinal stroke leaving him paralyzed at the T4 level and confined to a manual wheelchair. The  home he and his son live in needed to be modified so Bryan could fully and independently access it again. Because of the home's set up, Bryan was unable to live in it at all, forcing him and his son to relocate…until the Home Builders Foundation (HBF) and their partners stepped in.
The HBF is a metro-Denver based nonprofit that modifies homes to make them accessible so that individuals living with a disability can live safe, independent lives once again. After receiving Bryan's request for assistance, the HBF visited the home to assess the project and began sourcing Project Captains to complete the work. Infinity Home Collection, a builder in the community, quickly stepped in to Project Captain a ramp and modify Bryan's master bathroom.
"When we heard that a Central Park resident was in need of help to access his home we jumped at the chance to give back to the community we have been a part of for over 15 years.  Together with our trade partners we were able modify Bryan's home to meet his needs.  It was a pleasure being involved in this project and we sincerely hope that our work will now allow Bryan to live independently in his own home." – John Hovde, Chief Operations Manager – Infinity Home Collection
The remaining challenge was a custom multi-level stair glide that would allow Bryan to access all levels of his town home, and once again the community stepped in. The HBF and Bryan rallied together to gather additional funding support for this large-ticket item. HBF connected with the developer Forest City (now Brookfield Properties) and Master Association, who both contributed significant funds to the HBF for Bryan's project. Bryan reached out to his community and acquired nearly 70 donations from family, friends and neighbors. With the necessary funds raised, HBF and partner Ascent Mobility were able to order the lift, which was installed last month.
"Ascent Mobility was very happy to provide a custom curved stairlift that provides Bryan access to all three levels of his home." – Greg Shepherd, Ascent
The total value of Bryan's project is more than $35,000, but thanks to the HBF, Infinity Home Collection, Ascent Mobility and the community, Bryan received these modifications at no cost. With the modifications complete, Bryan can get back to work, family dinners with his son and coaching his son's sports teams once again.
About the Home Builders Foundation
The Home Builders Foundation (HBF) is a metro-Denver nonprofit that partners with the homebuilding industry to provide home modifications at no cost for individuals with physical disabilities. Since 1993, the organization has helped more than 1,600 individuals with disabilities remain in their homes with dignity and independence. The mission of the Home Builders Foundation is to build independence, provide opportunities and elevate lives for individuals and families with disabilities in our community.  For more information, visit www.hbfdenver.org.
Media Contact:
Home Builders Foundation
Beth Forbes
Executive Director
Mobile: 303-908-6300
bforbes@hbfdenver.org
www.hbfdenver.org