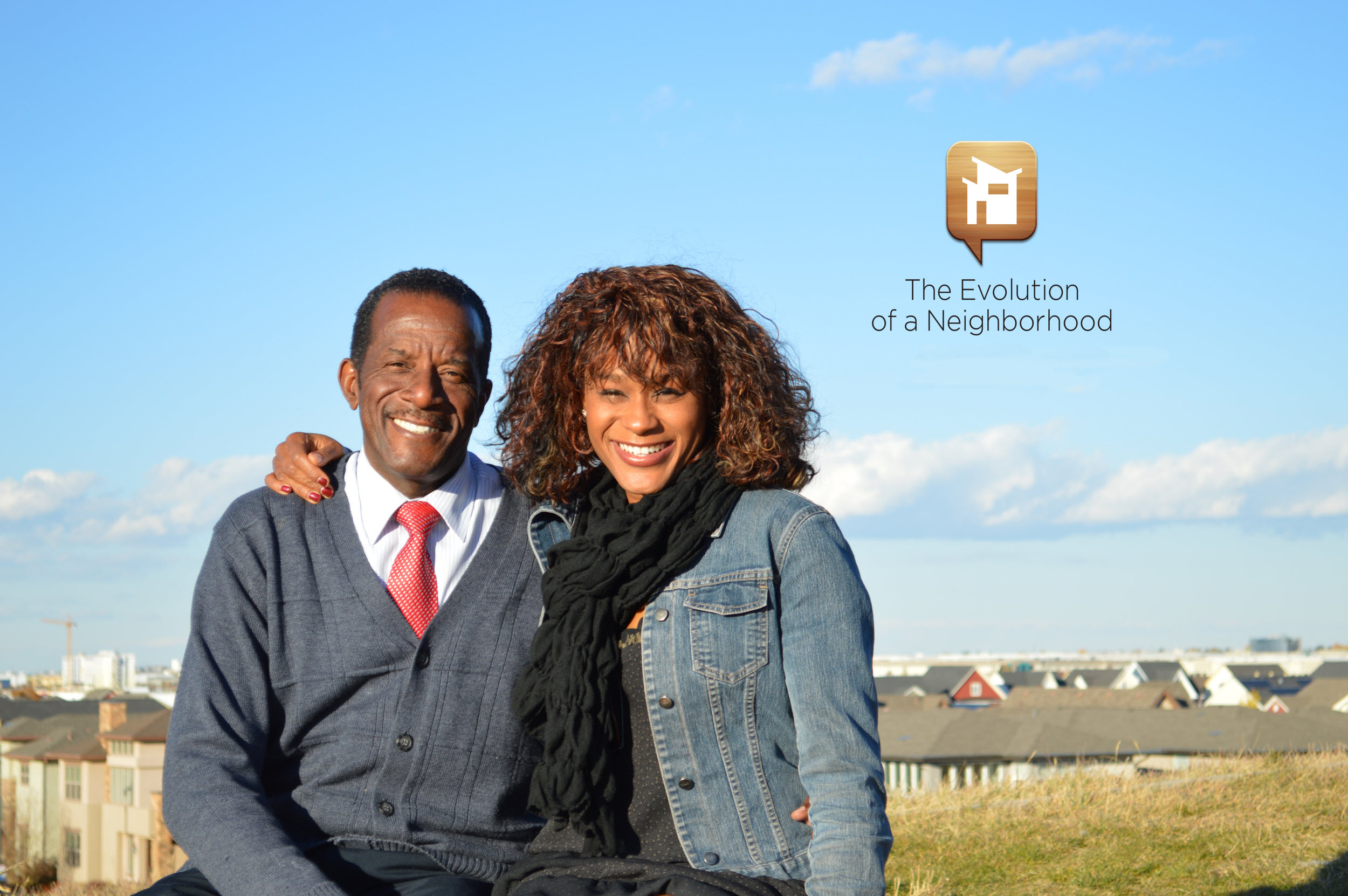 Introducing the next article in a series of stories about the evolution of Central Park – from how we got here to what's next. Enjoy this compilation of articles from industry experts, Realtors, long-time residents and others!
A Blog Series
By Tasha L. Jones
Senior Director of Marketing + Community Relations Brookfield Properties
My memories of the community as a former airport site are similar to most Colorado natives. My initial thoughts, in particular, are vivid recollections of traveling from Fort Collins and exiting I-70 onto Quebec Street to pass the airport en route to a weekend visit with my Dad.
Dad lived on Iola Street – just south of Montview Boulevard. At 7-years-old, I didn't know his neighborhood was considered lower-income. It was simply home … away from home with Mom. Most importantly, Dad's home seemingly had front row seats to planes taking off and landing at Stapleton International Airport. Nothing could be cooler in my book at the time!
I can still recall sitting in the front passenger seat of Dad's 1978, red, Fiat Spider. Looking out the front window with big brown eyes as I watched a United Airlines plane appear to be coming in for a swift landing … on top of Dad's most durable of vehicles. I didn't know whether to scream or laugh. And to think this was a regular occurrence.
Over the years, Dad moved to new homes in other neighborhoods throughout Aurora and Denver. Yet, my visits with him were always associated with the airport. Not just for reasons of the airport's proximity to our travel routes via I-70, Montview and Quebec. But also in that Dad eventually went to work for Budget Rental Car at the Stapleton International Airport location. For me, this resulted in many more frequent visits to the airport throughout my junior high and high school years.
Of course, I could go on and on about flying in and out of the airport. But one flight worth mentioning is my final flight out of Stapleton International Airport (circa fall 1993) – returning to my sophomore year at Drake University (Des Moines, IA). This would be my last memory of entering the main terminal off Martin Luther King Boulevard, checking my bags at the United Airlines check-in counter, and saying goodbye to Mom and Dad at a United Airlines gate. And for anyone wondering, I can assure you that no flight discounts were granted for the previous three United Airlines plugs.
But I digress.
Years later, when I began flying in and out of Denver International Airport, I thought my memories of Stapleton International Airport had faded. It wasn't until the summer of 2004 that those childhood memories swiftly resurfaced. I unexpectedly took a detour heading from north Aurora, making my way toward Downtown Denver. I suddenly connected onto a street that somehow seemed familiar to my internal GPS. It briefly almost felt like déjà vu. Or that I had been there in a past life. It just didn't seem possible, as the street was lined with colorful and beautifully designed, new homes. I'm now ashamed to say that I was in such disbelief at the time – comparing the architectural perfection to that of a set on The Truman Show – that for about a tenth of a second, I was unquestionably certain I had entered The Twilight Zone. But then I somehow managed to get my bearings and make a prompt return to my reality. I exited what was unknowingly Central Park's first neighborhood. Made my way to Quebec Street. Left wondering, "What was that?" and "How did I get there?"
Almost a year later, I returned. For this is when I received a job offer to work for Forest City (now Brookfield Properties), the master developer of the redevelopment. After thorough research, in preparation for the job interview and following acceptance of the position, my "ah-ha" moment was solidified. This was the community I stumbled upon one year prior.
I still find myself trying to figure out how I took that unexpected detour into Central Park. In hindsight, I believe my internal GPS wanted that detour street to be Moline Way. Turns out I ventured onto what is now Central Park Boulevard and into Filing two (a.k.a. East 29th Avenue neighborhood).
Strangely enough, 2005 would find me in an office located in the former site of Stapleton International Airport's rental car operations – where East 29th Avenue Town Center now bustles with lively activity. This was my year when the full circle connection began and my childhood memories became more frequent.
Having since personally witnessed eight years of development growth, I have had the pleasure of watching the community take shape – one neighborhood at a time. To be an active participant in the evolution of each neighborhood is quite a different experience from my first accidental drive through the community.
What we've come to refer to as Westerly Creek neighborhood is where I first experienced a tour of builder models along East 29th Avenue and where I came to understand the importance of the thoughtful integration of home choices from affordable and market-rate rentals to income-qualified and market-rate homes from $100,000 to $1 million. I was reminded of the architectural characteristics of Denver's historic neighborhoods. Home styles I so deeply admired from the ages of 10 to 15, when driving along Monaco Parkway, 17th Avenue and 6th Avenue.
While the architectural DNA pays homage to Denver's history, I watch the evolution of new home elevations from one neighborhood to the next. In 2007, Central Park was growing significantly in scale, with more than 3,000 new homes and nearly 7,000 residents. These fast facts indicated the importance of scalability to growth as well as names for neighborhood boundaries that were organically generated by residents. Both Eastbridge and South End neighborhoods were the impetus for implementing neighborhood names associated with geographic locations (e.g. east of the MLK bridge, southern end of the community, north of Central Park, etc). The proximity of these two neighborhoods to where my Dad once lived continue to remind me of my humble beginnings – deepening my vested interest in connectivity to the surrounding areas.
Of course, there's the 2011 HGTV Green Home event that highlighted the community as well as the Central Park North and Central Park West neighborhoods. It was enjoyable to see HGTV draw thousands dreaming of not only winning the Green Home, but also a chance to live in Central Park . And for Central Park , the HGTV Green Home was a moment of optimism revisited – following the worst economic recession in our country's history. This coummunity stood as a beacon for consumers looking for a community that was maintaining value. Perhaps for me, it was also an example of what hard work and big dreams were all about.
The momentum continued with the completion of the Central Park Boulevard bridge and interchange connection. The next evolution of growth north of Interstate 70 kicked off with the launch of Conservatory Green – Central Park 's eighth, great neighborhood (Bluff Lake being number seven). Central Park Boulevard became the spine that connected neighborhoods north and south of I-70. And my frequent jaunts across the CPB bridge to and from The shops at Northfield now bring back memories of riding with Dad and seeing planes cross over the former airport runway bridge above the interstate.
Central Park is my full circle connection to childhood memories, to Dad, and to a growing community with an established sense of place. I look forward to continuing the ride through this ever-evolving haven of new homes, parks, schools, shops, offices and so much more.
Thanks, Dad, for being part of my story. May we find ourselves touring through this vibrant community in the year 2025. And may we do so while driving that BMW 5 Series model we always dream of … reminiscing of your days living near and working at the airport;  and my serendipitous discovery of one of Denver's most emulated communities.